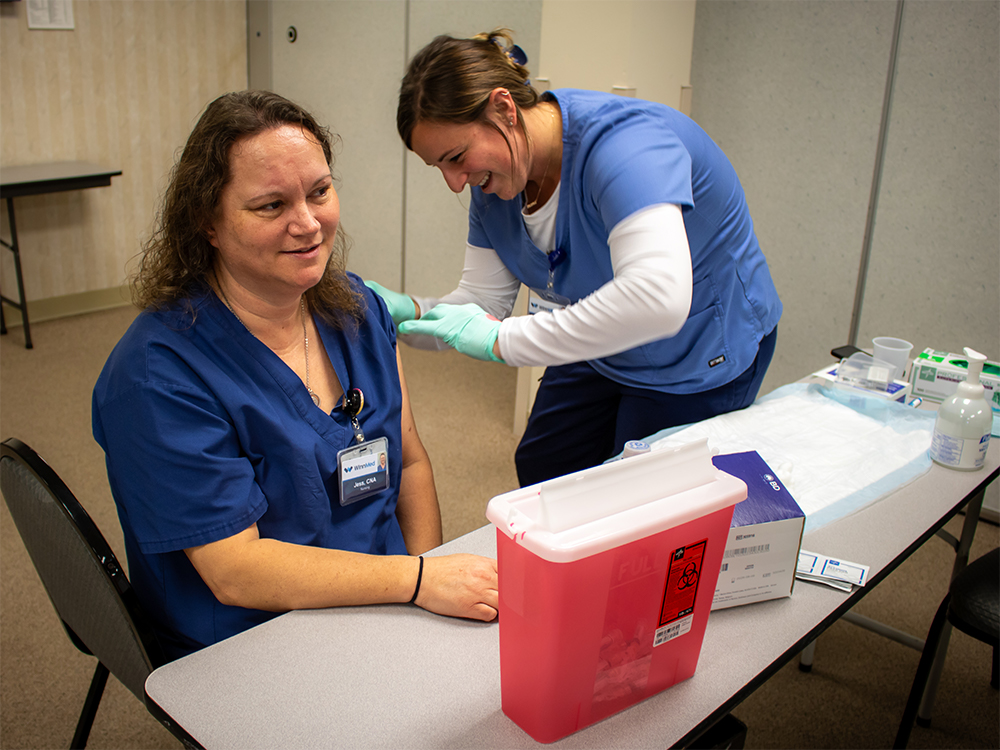 WinnMed staff member Jess Von Arx gets her annual flu shot from Samantha Phillips for the 2023/24 influenza season. Influenza vaccines are available for the public. To schedule an appointment for your influenza vaccine, call 563-382-2911.
Influenza season is approaching and it is an important and effective prevention strategy to get a flu shot.
When should I get a flu shot and how long does it last?
Influenza season generally begins in November and ends in March. However, there's no set timeframe; the flu can start to spread earlier in the fall and last through May. The flu shot protects against the influenza virus for about six months. The Centers for Disease Control (CDC) recommends adults get the annual flu shot in September or October. You can benefit from the vaccine even if you don't get it until after the flu season starts.
What types of vaccine are available this year?
The injection is the quadrivalent flu vaccine, which is designed to protect against four different flu viruses; two influenza A viruses and two influenza B viruses, and is for ages 6 months to 49 years. Flublok, for ages 50-64 years and High Dose, for ages 65+, also protect against four different flu viruses. Flu mist is not available.
Who should get a flu shot?
The CDC recommends all people 6 months and older should receive the flu vaccine. It is especially important for pregnant women to get vaccinated because of their increased risk for influenza-related complications. Pregnant women can get vaccinated during any trimester, including the first. It takes about two weeks after vaccination for antibodies to develop in the body that protect against flu.
How will flu shots be given this year?
At WinnMed, influenza vaccines will be available through an appointment, though walk-ins will be accepted as the vaccine schedule allows. (If you have a scheduled appointment for another reason, you may also get a flu shot at that time.) Flu vaccine charges will be submitted to your insurance. Influenza vaccine is available in WinnMed's Decorah, Ossian and Mabel Clinics. Make an appointment by calling: