Volunteer with Us
Volunteers greatly contribute to the success of WinnMed. Our volunteers' tireless dedication gives patients the extra hand they need to make their health care experience a positive one.
Volunteers provide a wide range of services to the medical center that complement individual talents and abilities, including:
Information Desk: Greet visitors and give directions.
Gift Shop: Manage the gift shop for a morning or afternoon by assisting with sales and setting out new merchandise.
Senior Health Insurance Information Program (SHIIP): If you are interested in the changes in Medicare and prescription drug coverage and would like to help others understand, consider taking the training to be part of the SHIIP team.
Gardening: Be a part of this team if you love nature and want to be outdoors in the spring and summer. Members plant perennials and planters and keep them maintained.
Hospice Volunteer: Support our Hospice patients through this special role. (Requires additional training.)
Hospice Bouquets: If you have flowers that you would love to share with a hospice patient, deliver them to the medical center on Monday morning and nurses will deliver them to patients to enjoy for the week. A rewarding gesture!
Sewing/Knitting: If you have the talent we could sure use you! Volunteers create walker bags for rehab patients and hats for newborns.
Occupational Health Clinics: Assist our Occupational Health nurse with paperwork at various sites in the community.
Café Cashier: Operate the cash register in the WinnMed Café during the lunch hour. Visit with staff and visitors.
Auxiliary Board: The Auxiliary Board consists of 11 members from various towns in the surrounding area. They meet monthly to discuss how to successfully spend the money raised by the Auxiliary through their special events held throughout the year.
Special Event Volunteers:

Valentine Sale: cookie packaging
Holiday Bake Sale: bakers, workers
Iowa/ISU Tailgate Party: workers

Gift Shop Committee: assist with decorating for each season, price new merchandise or go to market
All time dedicated to WinnMed is valuable. Volunteer assignments are arranged to complement personal lifestyles and schedules, with commitments that range from daily to once a year.
WinnMed's volunteer program offers men and women a tremendous variety of opportunities for service. They are compensated by the feeling of satisfaction from helping others, and the gratitude and support of WinnMed staff. Volunteers at WinnMed are leading the way to better health through service.
---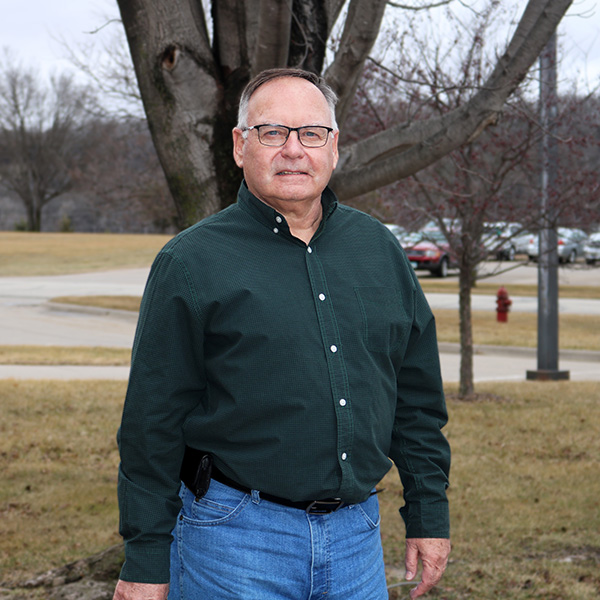 Jim Sims is a volunteer counselor for the Senior Health Insurance Information Program (SHIIP). In 2021, Jim served 200 clients and save them a total of $39,000. He says, "A good candidate for a volunteer counselor is computer literate and enjoys meeting with people. They should also feel satisfaction in helping others and solving problems."
---
For information on how to get involved, contact:
Karla Bakken, Volunteer Coordinator
901 Montgomery Street
Decorah, Iowa 52101
(563) 387-3036
Forms
WinnMed Background Check Authorization
DHS Authorization for Release of Child and Dependent Adult Abuse Information