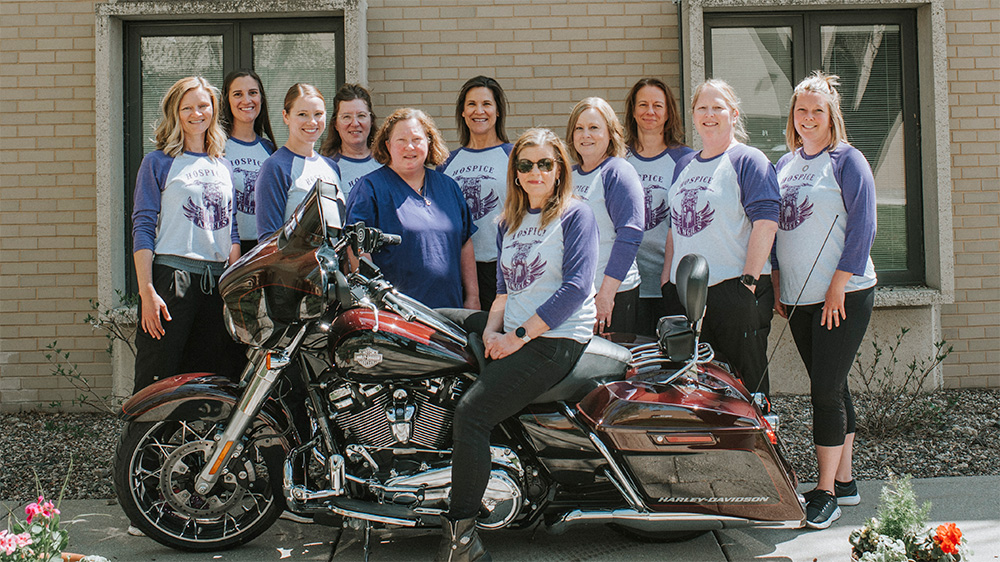 The annual WinnMed Hospice Memorial Ride is set for Sunday, June 25. The event will begin on the WinnMed campus in Decorah with a free-will donation breakfast, and will be held rain or shine.
The 2023 event will support new specialty therapies for hospice patients: Pet Therapy, Music Therapy, Massage Therapy and Spiritual Counseling.
"There are many benefits to the complimentary therapies provided through WinnMed hospice," says Nancy Haberichter, director of WinnMed Hospice. "For hospice patients dealing with both physical and emotional pain and anxiety, the therapies can provide positive changes in mood, relaxation, peace and comfort. They reduce anxiety and stress and bring on more social interaction with caregivers and families. These therapies inevitably bring a smile to the faces of patients, which in turn, is a gift to both hospice staff as well as to families."
Event Details
Free-Will Donation Breakfast
Breakfast is open to the public from 9 -10:30 am in the WinnMed Café Courtyard. Convenient parking is available in Lot F. The menu includes: French toast and sausages, cinnamon rolls, fruit, coffee and juice.
Poker Run
All vehicles are welcome to participate in the poker run. The ride entry fee is $20 per person and sign-in is available at WinnMed from 9-10:30 am (during the breakfast). Bikes and cars will take off at 11:00 am from WinnMed to begin the poker run. The ride will take a tour of the beautiful roads of northeast Iowa and will end at Pivo Brewery in Calmar at 4:30 pm with a silent auction, door prizes and refreshments.
WinnMed Hospice provides end-of-life care that ensures quality of life, compassion and comfort for patients and their loved ones. Services are available 24 hours a day, seven days a week to patients and families in Allamakee, Clayton, Chickasaw, Fayette, Howard and Winneshiek Counties. Haberichter says, "We have received such wonderful support from the communities we serve. We are extremely happy to provide all the new therapies to our patients. The Hospice Memorial Ride donations will help to keep these therapies available for a long time to come." For more information on the Hospice Memorial Ride, contact WinnMed Hospice at 563-387-3024 or ride organizer Daryl Hinton at 563-423-5564.