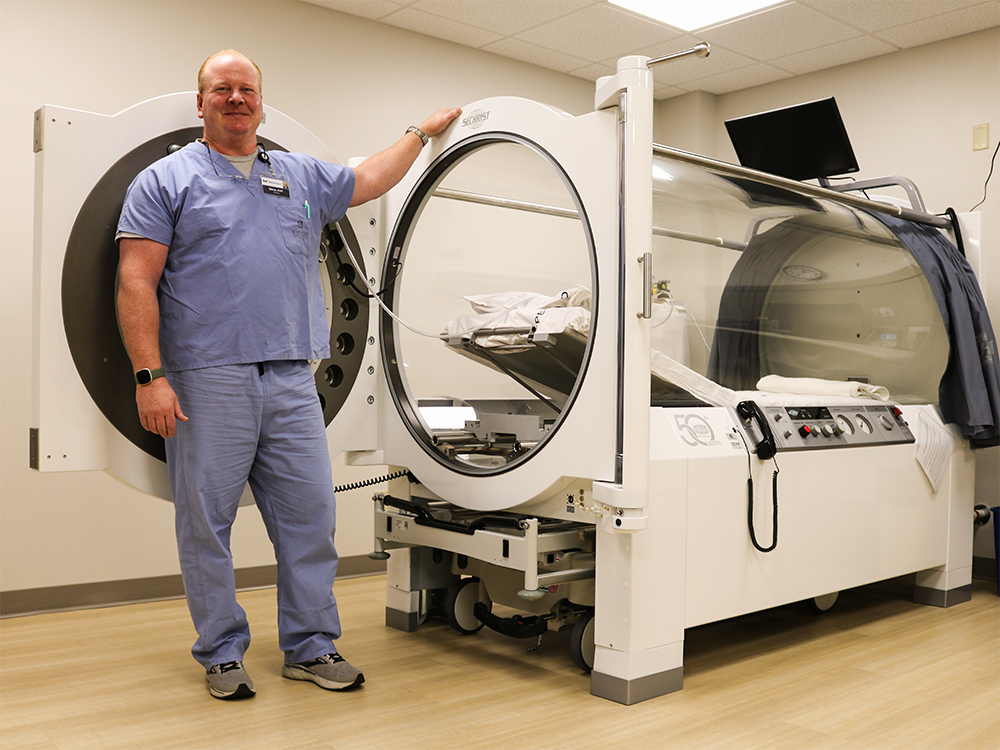 Steve Mayer, HBO technician, stands next to the new hyperbaric oxygen chamber at WinnMed.
Patients needing pure, pressurized oxygen to promote the healing of chronic wounds can now get that care locally at WinnMed.
In September, the first hyperbaric oxygen therapy (HBO) chamber in the region opened as part of WinnMed's Wound Center in Decorah. The chamber was purchased with funds donated to the WinnMed Foundation through their Annual Fund.
What is hyperbaric oxygen therapy?
Hyperbaric oxygen therapy involves breathing pure oxygen in a pressurized environment. This therapy is indicated for certain non-healing wounds, such as a diabetic foot ulcer, radiation injury or osteomyelitis. Hyperbaric oxygen therapy is not appropriate for all patients – as with most medical treatments it truly depends on the patient's condition and needs.
Why is a hyperbaric oxygen chamber beneficial for wound care?
The body's tissues need an adequate supply of oxygen to function normally, and to heal. When tissue is injured it needs even more oxygen. A hyperbaric oxygen chamber has been proven to enhance tissue oxygenation, stimulate growth factors, reduce inflammation, fight infection and ultimately promote healing.
Steve Mayer, HBO technician at WinnMed, joined the Wound Center team earlier this summer to help build the HBO program. He came to the area from a long career of providing HBO therapy in Green Bay, Wisconsin. Mayer says, "It has been my privilege to assist many patients heal problematic wounds, such as radiation injuries from their past cancer treatments, or diabetic ulcers. Some of these patients have literally endured painful, unhealed wounds for years. I have found it very rewarding to see people heal their wounds and regain an improved quality of life and health."
Hyperbaric oxygen therapy may be recommended in coordination with other wound healing treatments, or independently to address wounds due to radiation injury, sudden hearing loss, or other conditions, as directed by a health care provider.
The WinnMed Wound Center, including hyperbaric oxygen therapy, is led by Caroline Schwickerath, D.O., Mayo Clinic Health System general surgeon and board certified wound specialist. In addition to Dr. Schwickerath, Wound Center providers include: Bethany Stevens, ARNP; Thomas Marquardt, D.P.M.; Caity Schultz, ARNP; and Jenny Schrandt, ARNP, who will join the team this fall.
To learn more about hyperbaric oxygen therapy, visit www.winnmed.org/service/wound-center.  To schedule a consult, call WinnMed at 563-382-2911 and ask for the Wound Center.