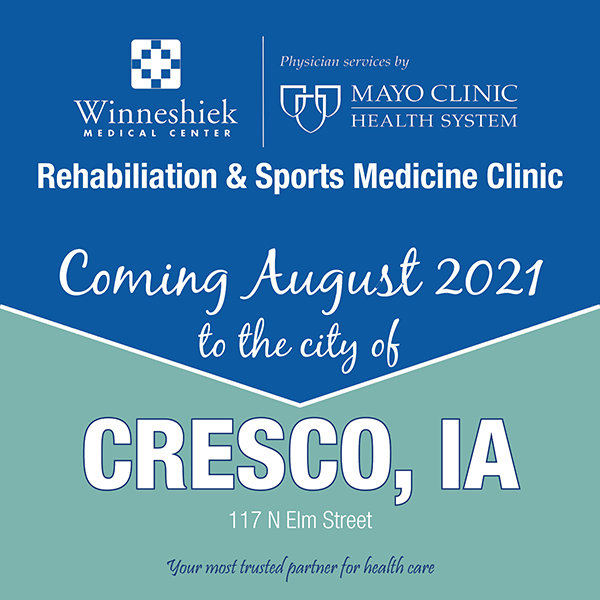 Winneshiek Medical Center is excited to announce they will be opening a Rehabilitation and Sports Medicine Clinic in Cresco, Iowa. The clinic, located at 117 N Elm Street in Cresco, will open in August 2021 and provide access to therapy services Monday through Friday.
Winneshiek Medical Center has provided therapy to the Cresco region in some capacity for nearly 20 years. Starting in 2002, WMC responded to a request by Regional Health Services of Howard County for WMC therapists to provide speech therapy services. Physical therapy and occupational therapy were added soon after, and in 2018, athletic training services were added. Dave Rooney, administrator for operations, Winneshiek Medical Center, says, "Over the years, our therapists have worked hard to expand the scope of specialized rehabilitation services available locally to meet the needs of the community. Winneshiek Medical Center and our Rehab team are very excited to be able to serve the community in new ways, and remain committed to providing local health care to the people of Howard County and the surrounding region."
The Cresco Rehabilitation and Sports Medicine Clinic will be primary staffed with the same therapists the Cresco community knows and trusts, including: Physical Therapists Alex Engelken, DPT; Jamie Schneberger, DPT and Andy Rix, MPT, CSCS; Occupational Therapists Stacy Quam, OTR/L, CLT and Lori Shindelar, OTR/L, CLT; Athletic Trainer Chris Trytten, ATC, LAT; and Speech/Language Pathologist Kelli Zeimetz-Mehmert, MA, CCC-SLP. Specialties will include:
Physical Therapy
Occupational Therapy
Speech Therapy
Athletic Training
Sports Medicine
Pediatric Therapy
Hand Therapy
Orthopedics
Lymphedema
Work Injury Management
Women Health – incontinence and pelvic pain management
Pain Management
Wound Management
Miranda Hayek, director of Rehab Services at WMC says, "We are thrilled a location has been secured to allow us to continue to provide the Cresco and Howard County community quality therapy services and care. Several members of our team live in the Cresco community, and we are all deeply committed to the people we have served over the years. We look forward to continuing those relationships in our new location."
Prior to the opening of the Cresco Rehabilitation and Sports Medicine Clinic in August, patients seeking care are invited to call Winneshiek Medical Center in Decorah for any of their therapy needs. The team who has been serving the Cresco community will be available for appointments in Decorah through the summer, and will seamlessly transition care to the new Cresco location when it opens in August.
Rehabilitation and Sports Medicine appointments are available in Decorah during the transition. Call 563-387-3031 to schedule.